By Gerry Cote
The NK-856 is a full-face helmet, manufactured by Chinese Manufacturer NENKI Helmets. It has a safety designation that meets or exceeds DOT FMVSS-218.
Full-face helmets offer added security to the head, namely in the face area while riding. They also help keep road noise down, and protect you from the wind, debris, and bugs if your motorcycle does not have a windshield or fairing.
This article takes into account several factors used to evaluate this helmet in real application. I evaluate the way it looks as well as the way it performs during actual road use over a few days of riding.
I tested this helmet while reviewing a CAN-AM Spyder F3S. Check it out here.
Shopping Now? We Recommend:
webBikeWorld has worked closely with Amazon over the years to provide our testers with products to review. In addition to being a great site to shop from, they're also a great partner.
Amazon
Free shipping (with Amazon Prime)
30-day return policy
Excellent selection
Competitive pricing
Exterior Appearance and Finishing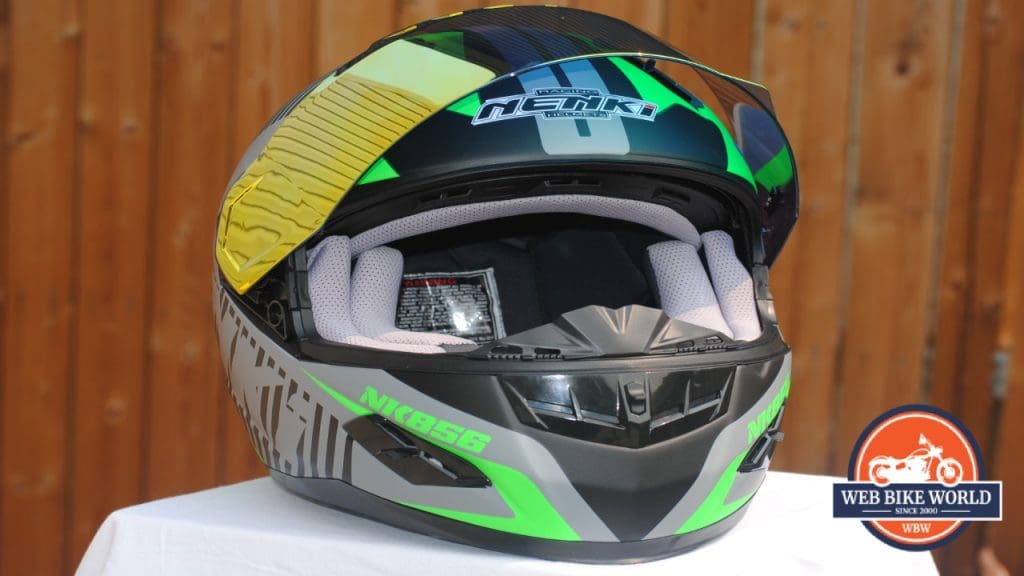 The NENKI is an aesthetically pleasing helmet. The helmet I reviewed was the Matte Black and Green. The graphics on the helmet are very present and make a bold statement.
The helmet comes with an anti-fog chrome visor that has a shade of gold. The visor accentuates the matte black and green graphics of the helmet.
The finish inside the helmet consists of a neoprene-like material that is removable for cleaning. It fastens on the inside with snaps. These snaps seem to do a good job at retaining the liner in the helmet.
The chinstrap is covered with the same neoprene-like material and the helmet is …read more
Source:: NENKI NK856 Helmet Hands-On Review