By Jim Pruner
Engine Ice Coolant is used in racing cars, bikes, and any other vehicle that is liquid-cooled. Some argue it's overpriced snake oil while many insist it's magic in a bottle. This review looks at that question and answers based on performance in a 2019 KTM 790 Adventure.
The accompanying video shows a step by step tutorial on how to drain, flush, and fill the motorcycle cooling system as well.
Video Review + Engine Flush How-To
Installing and Testing Engine Ice Coolant
Curiosity Cooled My Engine
Does Engine Ice actually work the way the manufacturer claims?
Ask a dozen people and you'll get many different answers to that question. Most people are solidly camped at either the love it or hate it end of the spectrum. I'm predictably somewhere in the middle.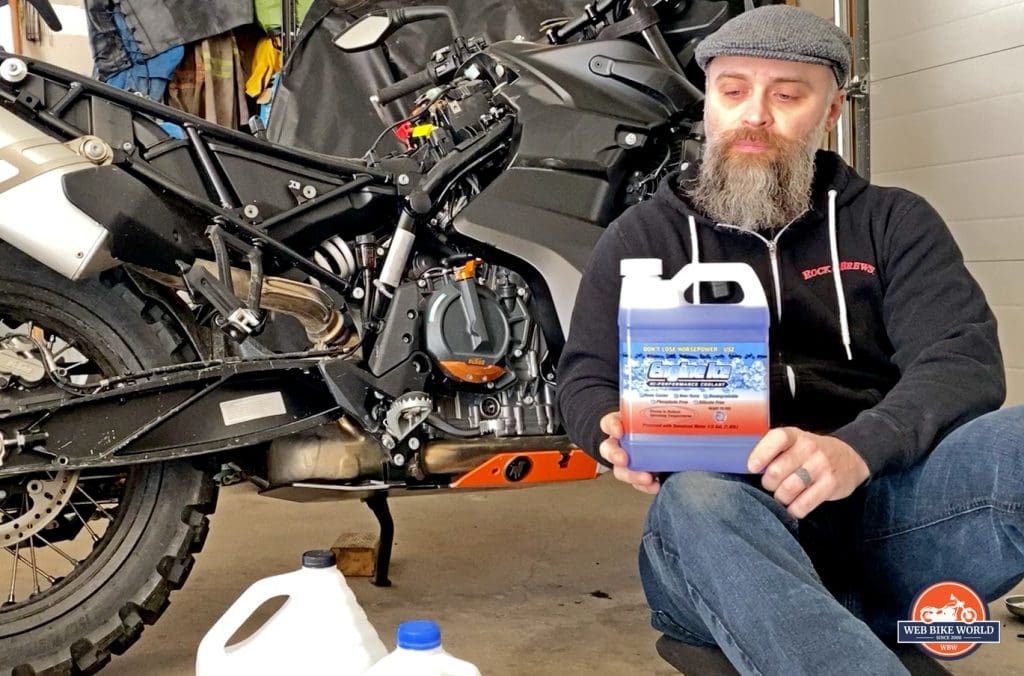 From me you'll get the following point of view:
Yes, it seems to be working in my 2019 KTM 790 Adventure as they claim… for the most part. Will I continue running it after my testing is complete?
I'm still deciding.
Thank You Scott Lukaitis!
Scott (Chief Operating Officer of Engine Ice) responded personally to my email inquiring about getting a free sample of coolant for the purpose of this review.
He made it happen quickly at no charge to me and I appreciate the opportunity to play mad scientist.
He also CC'ed David Kimmey (President of Engine Ice) on one of my emails to answer follow up questions about their product. It's impressive to me how passionately involved the top two executives are about… well… coolant!
Who am I kidding? I'm passionate about it too.